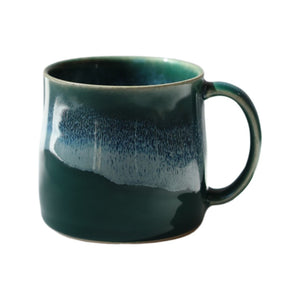 Possibly the most beautiful mugs in the world, these are handcrafted in stoneware by the small team at Glosters Pottery in North Wales. 
Muglet: 7cm height x 7.5cm width (10cm including handle)
Holds just under 1/2 a pint
A handmade mug for smaller hands or smaller thirsts - perfect for kids and adults alike.
Made from stoneware clay known for its durability, these handmade mugs are dishwasher and microwave safe, and of course the glazes are food safe.

Each of these mugs are hand glazed and therefore may vary slightly from those photographed.
Made in United Kingdom.