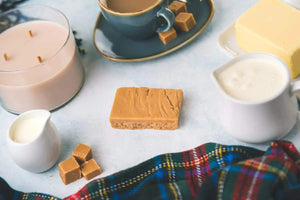 The original. The classic. Some say the best. Luxurious, creamy and indulgent. Traditional, smooth and Great Taste award-winning. Or as we call it, Just Plain Fudge.
Classic butter rich fudge with a deep creamy texture. Original and some say, best, Ochil's classic fudge is as traditional as it gets, and it's a real favourite with kids and grown-ups alike!
The perfect combination of creamy and crumbly, Ochil's handmade Just Plain Fudge makes for a perfect treat. Silky and smooth they have refined their recipe over the years to produce Fudge that is absolutely delicious.
All products that Ochil produce are naturally Gluten Free and can be enjoyed by everyone including those with Celiac Disease or indeed anyone with a Wheat or Gluten intolerance.
All their fudges are handmade and hand-beaten using traditional homemade methods and old-fashioned recipes in small batches with a great deal of love and care.