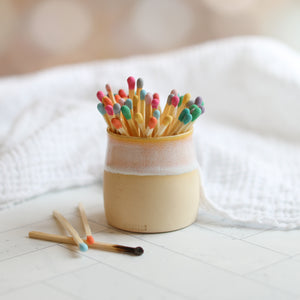 Light your candles in style with these stunning stoneware match pots, handcrafted by the small team at Glosters Pottery in North Wales and finished with their iconic glazes. 
The bottom of the match pot is affixed with a striker pad for the ultimate in convenience.
50 (approx) rainbow tipped safety matches included! 
Size: 5.5cm height x 4.5cm width approx
These handmade ceramic match pots are the perfect companion to any candle, as well as for our beautiful Glosters lantern pots.
Each of these match pots are hand glazed and therefore may vary slightly from those photographed.

Made in United Kingdom