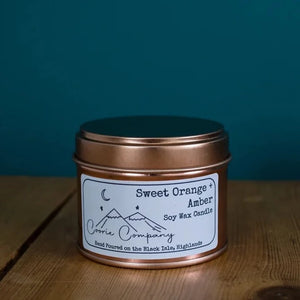 The Coorie Company beautiful rose gold candle tins are the cutest addition to any room. The candles are made with soy wax which is biodegradable, vegan and cruelty free. They come with a wick which is made of pure cotton with thin paper filaments for a more stable and consistent burn.
Sweet Orange + Amber velvet like amber, incense and musk  are heightened with sweet orange in this seductive scent. It creates an ambiance of warmth, sophistication and style. 
The labels are environmentally friendly, 100% recycled and are biodegradable. The paper is bleached without chlorine giving an off white appearance.
We recommend that you use a candle snuffer to keep your candle wick in its best position and condition. For best results once the wax has reset, trim the wick to 5mm. This will ensure that the next time you light your candle it will give a long, clean and even burn. 
Burn time: 15-20 hours approx
Dimensions: 48mm (H) x 61mm (D)