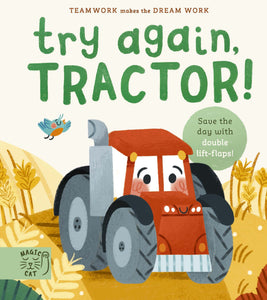 Tractor, Combine, Baler, Teleporter and Plough have lots of work to do on the farm. Each one has their own story of courage and determination as they play their part to get the harvest in. Double-layer lift flaps and read-aloud rhyming texts make this perfect inspiration for young readers.
Author: Eckford, Jennifer & Hunt, Kay
Publisher: Abrams & Chronicle Books Ltd
Format: Hardback
Publication Date: 11/08/2022
ISBN: 9781913520571
B-Code: B064034
Illustrated: Colour illustrations
Pages: 10
Dimensions: 189x167mm
Buy it online or from our Edinburgh gift shop.