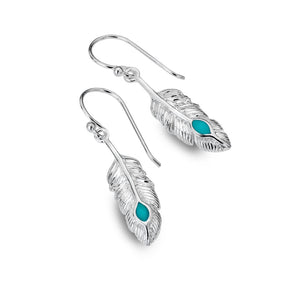 *40% off all 'Silver Origins' jewellery - discount applied at checkout*
Intricately handcrafted in sterling silver, these feather earrings with real turquoise stone will add a contemporary edge to any outfit. Designed by Cornish jewellers for their designer brand, Silver Origins®, who take their inspiration from natural forms, these earrings can also be worn with the pendant from our collection. 
Dimensions: 23mm long x 7mm wide.